At IISER Bhopal we have set up a technology-enabled classroom which promotes adaptive, immersive and reactive (AIR) teaching and learning. This prototype classroom is the first of its kind in the country which aims to implement most of the modern teaching methodologies already available as well as that developed at the center. This set-up is motivated by similar-concept classrooms (Technology-enabled Adaptive Learning) that were developed at Massachusetts Institute of Technology and a few other universities of international repute. This multimedia classroom supports teaching and learning by enhancing technology-human interaction and improving content quality.
This classroom enables improved learning in a class which has a wide spectrum of students with varying backgrounds. It provides technological diversity to the teacher so that the teacher has freedom to choose the tools and pedagogy that suits the subject and their style. The course structure and content in this classroom imposes itself upon a student thus giving little opportunity to the student to escape the material or lose his/her interest. Moreover, constant active interaction with the course material keeps the interest and motivation alive for students and ensures that learning goals begin in the classroom. Strong emphasis remains on active interaction with the course material, group discussions, problem solving and instant quizzing rather than simply making notes from the board. Instant feedback of the students' work to the instructor throughout the lecture is guaranteed by the technology employed, thereby enabling him/her to adapt the lecture catering to the specific needs of the class. In this special classroom instructor can induce peer-to-peer learning by group problem solving and group discussions. Inclusion of real and virtual demonstrations as teaching aids, small tabletop experiments, virtual experiments, team work and game play creates an immersive and reactive environment for learning.
ADAPTIVE
Strong emphasis remains on active interaction between students, instructors and teaching assistants. The student board work, student-staff interaction and live polls enabled through tablets provides constant feedback to the instructor to adapt according to the student's needs. Prevalent misconceptions emerge early in the learning process and can be dealt with effectively. Electronic devices enables students to float backward and forward in the lecture, adapting the learning process to their need.
IMMERSIVE
This classroom enables improved learning in a class which has a wide spectrum of students with varying backgrounds. The students are immersed in the content, constantly interacting with it either through demonstrations, graphics, problem solving in groups or experiments. This immersive experience gives them a little opportunity to lose interest or motivation. As opposed to passive learning, skill development begins in the classroom.
RESPONSIVE
Many peer discussions and group problem solving induces active-cooperative learning. Students are more responsive when the content is interesting and dynamic. 360 deegree view of live content and ease of access of other material anytime engages the students better with content and each-other.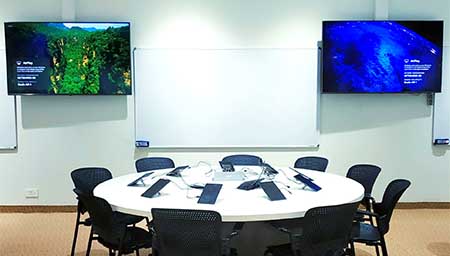 Displays
An array of 65" 4K UHD TV screens are arranged in an alternate order of X-type and Y-type displays. A total of 18 displays are divided into 9 X-Type and 9 Y-Type displays to show 2 kinds of content, for example, one from the iPad and one from a laptop simultaneously to the students.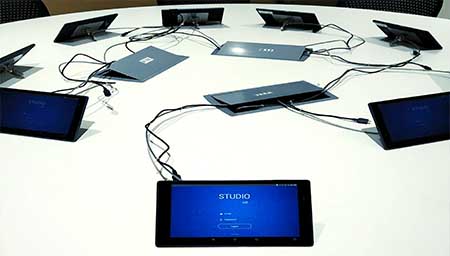 Tablets
Each seat has a Tablet with a custom app installed for in-class polling or to view past lectures.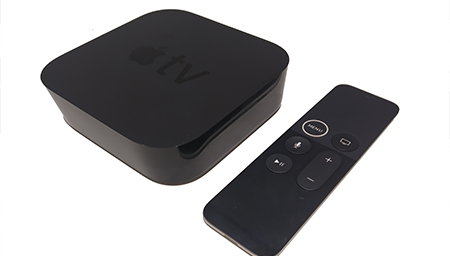 Apple TV
AppleTV along with an HDMI spiltter plays a major part of technology being used in this classroom. It gives the instructor the ability to share relevant information from their iPad/Laptop using AirPlay on to the available displays in the classroom.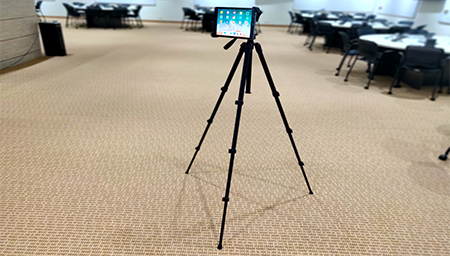 iPad
iPad can be used in many different ways like screencasting, Interactive whiteboard etc., which makes sharing of information much easier. Several apps are also available for efficient use of technology in teaching.
Many subject-specific applications are available which if the instructor wishes to use, can also be used for effective teaching. The iPad can be mounted on a tripod for a handsfree experience and it can be moved around the classroom easily.
Applications like StagePro help you to shoot anything on the iPad and broadcast it live on the displays.
Instructor's hub
In the center of the room is the Instructor's Kiosk. It houses equipment like a document camera, microphone etc., and all the controls of the room like lighting & power sockets
The document camera can be used for x-ray films, to demonstrate small circuit boards or any other small experiment or sample that the instructor wants to demonstrate in the classroom.